If you have ever been diagnosed with eczema you should avoid taking the current smallpox vaccination. Exposure to the smallpox virus in the vaccine can cause serious complications according to the Center for Disease Control and Prevention. You should also avoid close contact with anyone who has recently been vaccinated. The results of doing so have been fatal in some cases.
Continue Learning about Eczema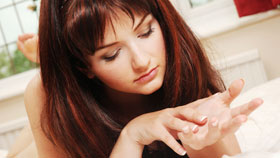 Eczema is a chronic allergic skin disorder that runs in families, resulting in red patches of skin that become extremely dry, itchy and irritated. Learn more about eczema from our experts.