Don't wait too long after you step out of the shower to moisturize your skin; you need to slather it on within three minutes after bathing. Gently blot your skin with a towel; damp skin will soak up the ointment or cream better.
Patients with eczema have extremely dry skin that is worse during the cold months and aggravated by low humidity. Dryness leads to cracks and fissures that impair the skin barrier leaving eczema patients prone to infection. Baths are an excellent way to hydrate the skin. Eczema patients should bathe in warm water since hot water can exacerbate dryness. A thick moisturizer or emollient should be applied to the skin within minutes after getting out of the bath. Moisturizing your skin when it is still a little damp improves skin hydration by stopping evaporative loss. Eczema patients should use moisturizers that are thicker and greasier and contain a higher amount of oil to water.
Continue Learning about Eczema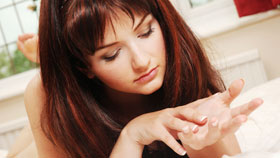 Eczema is a chronic allergic skin disorder that runs in families, resulting in red patches of skin that become extremely dry, itchy and irritated. Learn more about eczema from our experts.