Schedule an appointment with your doctor if you think you have discoid eczema. Discoid eczema, also called nummular dermatitis, is a condition that produces round or oval sores on the skin. These sores can itch, burn, and ooze fluid. A doctor can recommend a treatment plan and prescribe medication to help control discoid eczema. If the strategies you are currently using to manage discoid eczema aren't working, visit your doctor soon.

Continue Learning about Eczema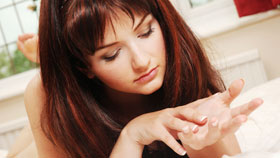 Eczema is a chronic allergic skin disorder that runs in families, resulting in red patches of skin that become extremely dry, itchy and irritated. Learn more about eczema from our experts.