Eczema, or atopic dermatitis, is a skin condition. It begins in infancy or childhood and the cause is often unknown. In some children, it may be caused by food allergies or allergies to things around them. Eczema can be hereditary. It may also be related to hay fever or asthma.
Continue Learning about Eczema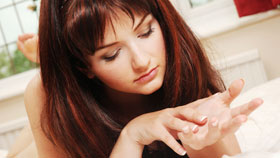 Eczema is a chronic allergic skin disorder that runs in families, resulting in red patches of skin that become extremely dry, itchy and irritated. Learn more about eczema from our experts.