An outbreak of discoid eczema, also known as nummular dermatitis, may be limited to a few small sores and cause only slight discomfort. In some cases, however, discoid eczema can spread and form a large rash. The rash may be itchy and become inflamed. Skin affected by discoid eczema may feel raw and ooze fluid. An outbreak of discoid eczema can last for months. See a dermatologist for treatment if you think you may have discoid eczema.

Continue Learning about Eczema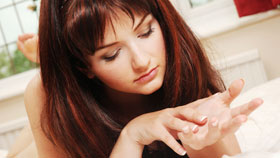 Eczema is a chronic allergic skin disorder that runs in families, resulting in red patches of skin that become extremely dry, itchy and irritated. Learn more about eczema from our experts.