Discoid eczema produces a distinctive-looking skin rash. The reddish or brown sores start out small but eventually form round or oval-shaped patches roughly the size of a coin. Discoid eczema often breaks out on the legs, but may appear elsewhere on the body. The sores may itch, burn, ooze fluid and become scaly. If you have symptoms of discoid eczema, contact a dermatologist for diagnosis and treatment.

Continue Learning about Eczema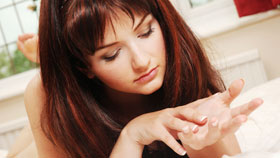 Eczema is a chronic allergic skin disorder that runs in families, resulting in red patches of skin that become extremely dry, itchy and irritated. Learn more about eczema from our experts.