Sunscreen should play an important role in your daily skin care routine, especially if you have discoid eczema. Applying sunscreen before spending time outdoors lowers your risk for skin cancer. Use a broad-spectrum sunscreen with a sun protection factor (SPF) of at least 30, and reapply often. Ask a dermatologist about other steps you can take to protect your skin if you have discoid eczema.

Continue Learning about Eczema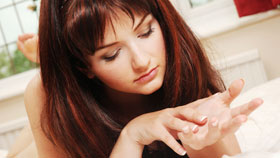 Eczema is a chronic allergic skin disorder that runs in families, resulting in red patches of skin that become extremely dry, itchy and irritated. Learn more about eczema from our experts.