Discoid eczema, also known as nummular eczema, is a skin condition that involves coin-shaped rashes. This can cause itching and burning that can be worse at night. Treatment options include good emollient moisturizers, avoidance of any possible allergens or irritants and topical steroids. If there are signs of bacterial infection, such as yellow crusting, then antibiotics may also be necessary.
Discoid eczema is a condition that causes coin-shaped sores to form on the skin. The sores are reddish or brown, and may itch or burn. Sores caused by discoid eczema, also known as nummular dermatitis, may also ooze fluid and become scaly.

If you have discoid eczema, your symptoms may improve for a while and then return. A dermatologist can recommend treatment strategies and prescribe medication to help manage discoid eczema.

Continue Learning about Eczema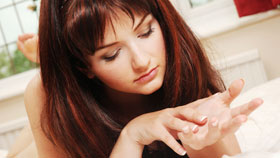 Eczema is a chronic allergic skin disorder that runs in families, resulting in red patches of skin that become extremely dry, itchy and irritated. Learn more about eczema from our experts.