The exact cause of eczema is unknown, but researchers believe it is hereditary (passed from a parent to child through genes). Some parents may pass on the gene for eczema without having eczema themselves.

Talk with your doctor about the latest research on the causes of eczema.
The relationship between eczema and genetics isn't completely understood but the disorder does seem to run in families. A family history of atopic diseases definitely increases a child's risk of developing the disorder. Which genes are specifically involved is yet to be discovered, but a study of both identical and fraternal twins has produced evidence that genes do play an important role in determining who develops eczema.
Continue Learning about Eczema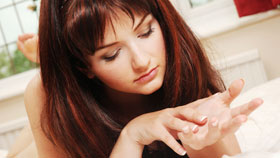 Eczema is a chronic allergic skin disorder that runs in families, resulting in red patches of skin that become extremely dry, itchy and irritated. Learn more about eczema from our experts.