The two biggest risk factors for discoid eczema are getting older and being male; the condition occurs most frequently in men over age 55. Women can develop discoid eczema, as well, although usually in their late teens or early 20s.

Discoid eczema, also called nummular dermatitis, is sometimes brought on by damage to the skin. That means cuts, scrapes, bug bites, and other skin injuries are risk factors for developing discoid eczema. Using certain medicines, including some types of antibiotics that are applied to the skin, also may trigger discoid eczema. People whose skin is sensitive to some metals and certain chemicals can also develop this skin condition.

Continue Learning about Eczema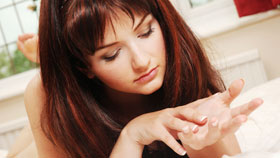 Eczema is a chronic allergic skin disorder that runs in families, resulting in red patches of skin that become extremely dry, itchy and irritated. Learn more about eczema from our experts.