Eczema or atopic dermatitis often begins in infancy with dry patches, or a rash on the cheeks, face, and lower arms. As children get older, it affects the hands and areas where there are creases such as the anticubital fossae (in front of the elbows) and the popliteal fossae (behind the knees), and at the wrists.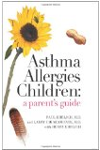 More About this Book
Asthma Allergies Children: A Parent's Guide
Asthma and allergies are at epidemic proportions. It doesn't have to be that way. Two experienced pediatric allergists tell everything a conscientious parent needs to know about these conditions,...
Continue Learning about Eczema