Eczema is often associated with asthma and seasonal or pet allergies, also known as allergic rhinitis. These disorders are called "atopic," meaning that people with these symptoms may also have similar sensitivities in their skin (eczema), lungs (asthma) or nasal passages (allergic rhinitis).
People with eczema also frequently suffer from hay fever and asthma, which may continue throughout their lives.
Continue Learning about Eczema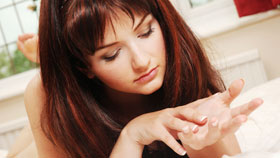 Eczema is a chronic allergic skin disorder that runs in families, resulting in red patches of skin that become extremely dry, itchy and irritated. Learn more about eczema from our experts.