The biggest breakthrough in eczema treatment are the drugs tacrolimus and pimecrolimus. These drugs are known as topical calcineurin inhibitors. They help people with eczema by preventing the immune system from producing substances that are linked to eczema. These drugs are usually prescribed only when other treatments, such as topical corticosteroids (the mainstay of eczema treatment), don't work. Studies show that these non-steroidal medications can control eczema over long periods of time. Although the drugs appear to be low-risk, studies are ongoing to monitor their safety and effectiveness. Talk with your doctor to find out what eczema treatments are right for you.
Continue Learning about Eczema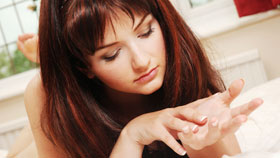 Eczema is a chronic allergic skin disorder that runs in families, resulting in red patches of skin that become extremely dry, itchy and irritated. Learn more about eczema from our experts.