Talk to your dermatologist about which sunscreen to use if you have atopic eczema. Some people with atopic dermatitis find that certain sunscreens irritate their skin and worsen their symptoms. One strategy that may help is to do a spot test before applying sunscreen all over your skin. Apply a small amount of sunscreen to the inside of your arm to see if you experience a reaction.

Continue Learning about Eczema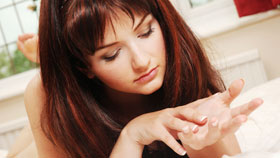 Eczema is a chronic allergic skin disorder that runs in families, resulting in red patches of skin that become extremely dry, itchy and irritated. Learn more about eczema from our experts.