Discoid eczema is a condition that produces coin-shaped sores on the skin. The sores are usually reddish or brown and ooze fluid. Discoid eczema sores also may also itch, burn, and become scaly.

Also known as nummular dermatitis, discoid eczema typically affects men over age 55. Women may develop discoid eczema, too, though usually at a younger age. The cause of discoid eczema is not yet known, though many people who develop discoid eczema have either a personal or a family history of allergies or asthma. It's important to see a dermatologist if you think you have discoid eczema.
Continue Learning about Eczema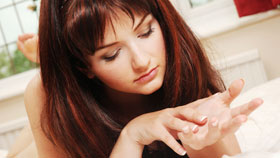 Eczema is a chronic allergic skin disorder that runs in families, resulting in red patches of skin that become extremely dry, itchy and irritated. Learn more about eczema from our experts.