There are many factors that may increase your risk for eczema. One is frequent contact with irritants that can cause an allergic reaction. Experts believe that certain genes, an overactive immune system, and overall health can be factors. Some dermatologists think that a barrier defect -- which involves gaps in the skin where germs can enter -- can make a person more susceptible to eczema. Climate, stress levels, and being HIV-positive can also play a role in the development of certain types of eczema.

here are several factors that may increase your risk of developing eczema. People with hay fever, asthma or food allergies are more likely to develop atopic dermatitis than those with healthier immune systems. There appears to be a genetic connection as those with family members who suffer from eczema are at higher risk. Harsh environmental factors, like urban or dry climates increase risk. Dry skin, scratching, coming in contact with allergens and taking certain medications can all increase the likelihood that you'll develop eczema as well. Specific types of dermatitis have other risk factors. Atopic dermatitis affects mostly children, whereas local scratch dermatitis tends to affect those between 20 and 50 and females. Seborrheic dermatitis on the other hand affects more men and a large majority of people who have AIDS.


Continue Learning about Eczema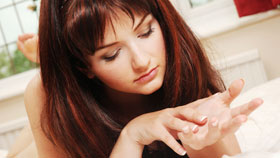 Eczema is a chronic allergic skin disorder that runs in families, resulting in red patches of skin that become extremely dry, itchy and irritated. Learn more about eczema from our experts.