Topical steroids are the standard medication for treating eczema. Oral steroids are usually reserved for severe eczema flare-ups. There are also two non-steroidal drugs approved by the FDA for treating eczema. These medications, tacrolimus and pimecrolimus, belong to a class of drugs called topical immunomodulators, or TIMs, that address the underlying immune system causes of eczema. In some cases a doctor might also prescribe other types of medications to treat eczema, include topical or oral antibiotics, anesthetics, antihistamines, antifungals, and anti-inflammatory medications.

Continue Learning about Eczema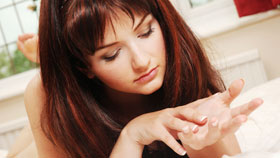 Eczema is a chronic allergic skin disorder that runs in families, resulting in red patches of skin that become extremely dry, itchy and irritated. Learn more about eczema from our experts.