Elimination of food allergy is the primary goal in dealing with eczema. Although any food or food additive can trigger eczema, eggs, fish, milk, peanuts, soy, and wheat appear to be the most common food allergens. In one study, eggs, milk, and peanuts accounted for roughly 81 percent of all cases of childhood eczema.
Patients with eczema also appear to have an essential fatty acid deficiency. This results in decreased synthesis of the anti-inflammatory prostaglandins. As a result, there is a relative increase in the prostaglandins that promote inflammation. Increasing the dietary intake of the omega-3 essential fatty acids, either by eating more fatty fish (e.g., mackerel, herring, and salmon) or through consuming flaxseed oil or fish oil supplements, can be of benefit. However, if fish allergy is suspected, a molecularly distilled fish oil product should be used.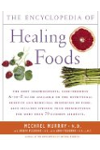 More About this Book
Encyclopedia of Healing Foods
From the bestselling authors of The Encyclopedia of Natural Medicine, the most comprehensive and practical guide available to the nutritional benefits and medicinal properties of virtually everything...
Continue Learning about Eczema