Some complications of eczema occur when the condition isn't treated or managed properly. Eczema causes very dry skin, which may lead to skin itching and scratching, which in turn can damage the skin, raising the risk for bacterial, viral or fungal infections. Complications can also develop if you don't avoid certain eczema triggers, such as perfume, wool or smoke.

Eczema flare-ups can also cause the skin to look unattractive, which can lead to a higher risk for anxiety and depression for people who have eczema. Finally, having eczema is a sign that you are at increased risks for other conditions, including asthma and hay fever, that doctors think are caused by a similar immune system problems. About half of people with eczema also develop asthma and about two-thirds develop hay fever or allergic rhinitis.

Continue Learning about Eczema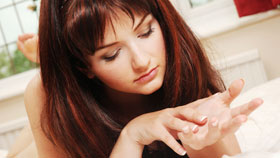 Eczema is a chronic allergic skin disorder that runs in families, resulting in red patches of skin that become extremely dry, itchy and irritated. Learn more about eczema from our experts.