Infantile eczema, a type of atopic dermatitis, is a common skin disorder in babies caused by an overactive immune system triggered by environmental factors. Although the reasons are not completely understood, the immune system of infants with this condition tends to overreact when the skin is exposed to allergens such as foods, detergents, and soaps, or when the skin is exposed to heat, cold, or high humidity. Infants with eczema often develop other allergic conditions such as nasal allergies and asthma when they grow up. Infantile eczema can run in families and is not contagious.
Continue Learning about Eczema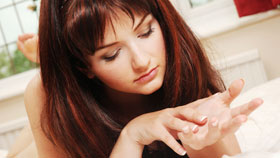 Eczema is a chronic allergic skin disorder that runs in families, resulting in red patches of skin that become extremely dry, itchy and irritated. Learn more about eczema from our experts.