If you have discoid eczema, also called nummular dermatitis, it's important to take good care of your skin. Try to avoid cuts, scrapes, burns, bug bites, and other damage because these may trigger outbreaks of discoid eczema. Ask a dermatologist about other steps you can take to prevent discoid eczema and avoid flare-ups. For example, a doctor may recommend using moisturizer, since people with dry skin seem to be more likely to develop discoid eczema.

Continue Learning about Eczema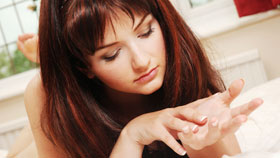 Eczema is a chronic allergic skin disorder that runs in families, resulting in red patches of skin that become extremely dry, itchy and irritated. Learn more about eczema from our experts.