There are different causes and triggers of eczema. The role of some airborne allergens in eczema is unclear, but there seems to be good evidence for that of dust mites and possibly other household allergens. Symptoms can be aggravated by heat and stress. Exposure to animals, animal-derived fabrics such as wool, and feathers can set off the itching.
In sensitive individuals, foods may have an effect, even if there is no other diagnosed food allergy. As with other food allergies, eggs, milk, peanuts, soy, wheat, or fish are the likely culprits with eczema, but other foods may also be at fault. If food is suspected, the physician may supervise removing the suspected foods from the diet for a trial period.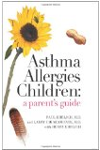 More About this Book
Asthma Allergies Children: A Parent's Guide
Asthma and allergies are at epidemic proportions. It doesn't have to be that way. Two experienced pediatric allergists tell everything a conscientious parent needs to know about these conditions,...
Following are some of the things that can make eczema worse:
soap
grass
sand
pets
germs
being too hot
certain foods
If people with eczema avoid these things and use eczema creams, their skin will feel much better.
Continue Learning about Eczema