Staphylococcus aureus exacerbates, and possibly even triggers, eczema flare ups. It's more commonly found on the skin of people with eczema than those without the skin condition, and it often finds easy access to the body when scratching opens sores in the skin.
Continue Learning about Eczema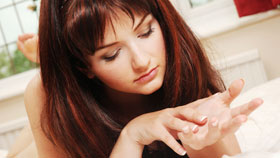 Eczema is a chronic allergic skin disorder that runs in families, resulting in red patches of skin that become extremely dry, itchy and irritated. Learn more about eczema from our experts.