The symptoms of eczema can sometimes disappear only to return years later. This often happens when a child hits puberty and is most likely the result of higher levels of hormones and stress. While eczema mostly affects children, anyone can develop the disorder at any age and there are several other types of eczema that affect adults as well.


Continue Learning about Eczema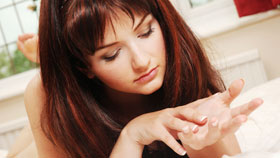 Eczema is a chronic allergic skin disorder that runs in families, resulting in red patches of skin that become extremely dry, itchy and irritated. Learn more about eczema from our experts.