Symptoms of infantile eczema usually include dry, itchy rashes on a baby's scalp, cheeks, face, and forehead. The red rash often begins on the cheeks, spreads to the forehead, and then covers the scalp where it is commonly known as "cradle cap." It can spread over the baby's body, including the arms and legs. Your baby's symptoms may get worse when he or she is tired, especially at night. If symptoms become severe, red blisters may form. Most babies will outgrow infantile eczema by age 2. If not, symptoms may continue on your child's arms, legs, wrists, and neck. You may notice itchy patches on the back of your child's knee and the inside of the elbow. Consult a dermatologist for more information.
Continue Learning about Eczema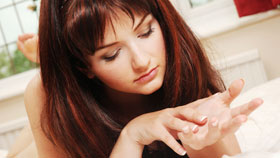 Eczema is a chronic allergic skin disorder that runs in families, resulting in red patches of skin that become extremely dry, itchy and irritated. Learn more about eczema from our experts.