You should definitely talk to your dermatologist about your eczema symptoms. This will help him or her to determine what type of eczema you have and how severe it is and come up with the best treatment plan for you.

Symptoms of eczema can include flaky skin, red skin, scaly and oozy skin, and skin that feels itchy and/or painful. Symptoms may vary depending on the type of eczema you have.
If you notice that you, or your child, are displaying symptoms of eczema you should consult your doctor. While there is no cure for the disease, a proper diagnosis might help you narrow down specific factors that are causing your symptoms to flare up. Your doctor may also be able to prescribe medications that may help you manage the disease. Seeing a doctor about your eczema symptoms can help prevent complications such as skin infection and save you some discomfort.


Continue Learning about Eczema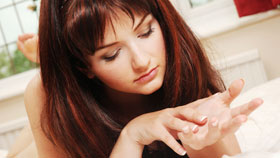 Eczema is a chronic allergic skin disorder that runs in families, resulting in red patches of skin that become extremely dry, itchy and irritated. Learn more about eczema from our experts.