Risk factors for infantile eczema (atopic dermatitis that occurs in babies) can involve what the baby eats as well as the baby's environment. Children who are breastfed are less likely to get eczema, according to studies. This is especially true of children whose nursing mothers did not drink cow's milk or eat eggs, fish, peanuts, or soy. Breastfeeding mothers should avoid foods that may trigger an allergic reaction in their baby. In addition, products may irritate the baby's skin, so use mild, hypoallergenic cleansers during bathing, and remember to moisturize baby's skin regularly, to help keep it healthy. Use only soft, natural fabrics for your baby's clothing and bedding. Do not use wool, nylon, or other synthetic fabrics that can cause or worsen eczema. Stress can also play a role in infantile eczema, so tension in your home could cause an outbreak of eczema for your baby. Try to keep a regular schedule to help reduce stress for your baby. Consult a dermatologist for more information.
Continue Learning about Eczema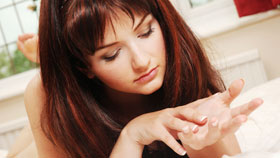 Eczema is a chronic allergic skin disorder that runs in families, resulting in red patches of skin that become extremely dry, itchy and irritated. Learn more about eczema from our experts.