Eczema, also called atopic dermatitis, is a skin condition that often causes dry, itchy rashes on the skin. Babies and children are most likely to have eczema, and it sometimes disappears as they grow older. Sometimes, though, eczema persists into adulthood. Eczema isn't contagious -- genes and living in dry or urban conditions may play a part in developing eczema. If you think you may have eczema, talk to your doctor about possible treatments to help improve your skin health.
Continue Learning about Eczema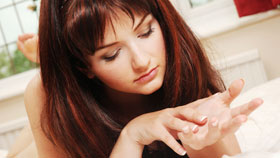 Eczema is a chronic allergic skin disorder that runs in families, resulting in red patches of skin that become extremely dry, itchy and irritated. Learn more about eczema from our experts.