There is no cure for eczema. Some children may outgrow eczema -- also known as atopic dermatitis -- while others may struggle with it for life. Current research may help doctors better diagnose, treat, and prevent eczema.

Talk with your doctor about the best way to manage your eczema.
Currently, there is no cure for eczema. There are, however treatment options available to help you manage the condition. Many children who suffer from eczema will grow out of it by their teenage years.
Continue Learning about Eczema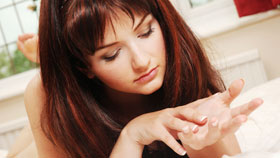 Eczema is a chronic allergic skin disorder that runs in families, resulting in red patches of skin that become extremely dry, itchy and irritated. Learn more about eczema from our experts.