Eczema is not contagious. Researchers, however, do believe there is a genetic link and that eczema can be inherited from one's parents.
Eczema is not contagious. Eczema is a term commonly used to refer to the condition atopic dermatitis. Atopic dermatitis is a common skin disorder affecting approximately 20% of children. Eczema tends to run in families and is believed to have a strong genetic component. Children with atopic dermatitis may also suffer with asthma and allergic rhinitis and may have food allergies. In severe cases, allergy testing may be helpful in identifying triggering factors.
Patients with eczema have eruptions that are dry, scaling and itchy. Eczema can affect any part of the body but often affects the folds of the arms, behind the knees, wrists, ankles and the cheeks. Most eczema can be controlled with topical cortisone creams and oral antihistamines.
Continue Learning about Eczema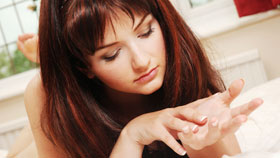 Eczema is a chronic allergic skin disorder that runs in families, resulting in red patches of skin that become extremely dry, itchy and irritated. Learn more about eczema from our experts.