Conjunctivitis, or inflammation of the eye, is an infection caused by viruses and bacteria and can be a complication of eczema. The eyes become red and produce a discharge that causes them to stick together overnight. They also might swell and feel uncomfortable. Consult a dermatologist for more information.
Seek a physician's assistance for medical concerns.
Continue Learning about Eczema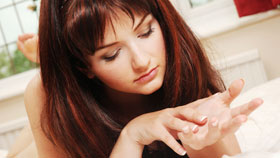 Eczema is a chronic allergic skin disorder that runs in families, resulting in red patches of skin that become extremely dry, itchy and irritated. Learn more about eczema from our experts.