Blepharitis is a complication of eczema that inflames the eyelids. When oil glands near the eyelashes stop working properly, the eyelids become irritated and itchy. The condition is difficult to treat but seldom causes permanent damage. Symptoms include redness, itchiness, and irritation around the eyelids. It can also produce dry or greasy scales and cause eyelashes to fall out. Eczema contributes to the symptoms of blepharitis. Atopic dermatitis, the most common type of eczema, can affect the skin around the eyes, eyelids, eyebrows, and lashes. Scratching and rubbing the eye can make it red and swollen. Constant rubbing and scratching can damage eyebrows and eyelashes and lead to blepharitis. Consult a dermatologist for more information.
Seek a physician's assistance for medical concerns.
Continue Learning about Eczema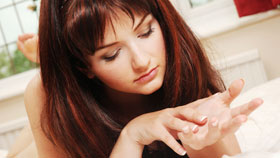 Eczema is a chronic allergic skin disorder that runs in families, resulting in red patches of skin that become extremely dry, itchy and irritated. Learn more about eczema from our experts.