If you have discoid eczema you should be evaluated by a dermatologist. Follow all of his or her instructions for managing this skin condition. One of the simplest things you can do to control the symptoms of discoid eczema is to take a long -- 20 minutes or so -- bath or shower. Use lukewarm, not hot, water. Right after bathing, while your skin is still damp, apply a moisturizer recommended by your dermatologist. This will help your skin retain water and ease itching, scaliness, and other symptoms of discoid eczema.

Your doctor may prescribe ointments, creams and other medications to help treat your discoid eczema. Use all medicine exactly as prescribed.

Continue Learning about Eczema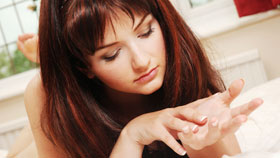 Eczema is a chronic allergic skin disorder that runs in families, resulting in red patches of skin that become extremely dry, itchy and irritated. Learn more about eczema from our experts.