If you have eczema, you don't want to spend more than 10 minutes in the bath or shower - your skin can't retain the moisture and will start to dry out. Stay away from hot water, too, because it withdraws natural oils from the skin. Finally, using a mild, non-soap cleanser can help to keep skin hydrated.
Continue Learning about Eczema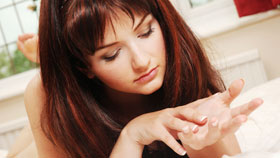 Eczema is a chronic allergic skin disorder that runs in families, resulting in red patches of skin that become extremely dry, itchy and irritated. Learn more about eczema from our experts.