Skin care is an essential component to treatment of eczema in children. Moisture reduces itching. Soaking baths of cool water for twenty to thirty minutes twice daily are recommended, depending on the severity of the eczema. Soaking allows water to penetrate the outer layer of skin and actually "hydrate" it -- making it moister. Just running water over it won't do. Bath oils must be used following the bath to retain moisture. When the child gets out of the tub, pat the skin dry and apply a lubricating cream within three minutes to seal in the moisture.

For smaller areas such as the elbows or behind the knees, which are prone to lichenification making it hard for moisture and medicine to penetrate, some doctors recommend washing and liberal doses of topical steroids covered by Saran wrap and held in place with an Ace bandage. This prevents any moisture from escaping while allowing the medication to do its work.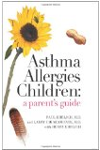 More About this Book
Asthma Allergies Children: A Parent's Guide
Asthma and allergies are at epidemic proportions. It doesn't have to be that way. Two experienced pediatric allergists tell everything a conscientious parent needs to know about these conditions,...
Continue Learning about Eczema