You may be able to prevent outbreaks of eczema by using a humidifier at home, since eczema is more likely to occur in a dry environment. You may also prevent eczema outbreaks by moisturizing frequently and limiting bathing. It is also important to avoid triggers, such as scented laundry soap or skin products.
To prevent outbreaks of eczema, follow your doctor's recommendations for avoiding triggers and caring for your skin. Common eczema triggers include emotional stress, hormonal changes, temperature extremes, and exposure to irritants such as wool, smoke, animal dander, perfumes, and strong soaps or detergents.

Talking with your doctor may help you identify your eczema triggers. In addition, your doctor may prescribe medications to prevent eczema flares. He may also suggest avoiding hot baths and applying moisturizer while the skin is still damp.

Continue Learning about Eczema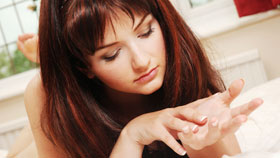 Eczema is a chronic allergic skin disorder that runs in families, resulting in red patches of skin that become extremely dry, itchy and irritated. Learn more about eczema from our experts.