No one knows the cause of discoid eczema, so it's difficult to recommend measures that will prevent it from developing. If you are prone to flare-ups of discoid eczema, it may help to protect your skin from scrapes, cuts, and other injuries. Damage to the skin seems to trigger outbreaks of discoid eczema. See a dermatologist if you have this skin condition. He or she can recommend other strategies that can help you manage discoid eczema.

Continue Learning about Eczema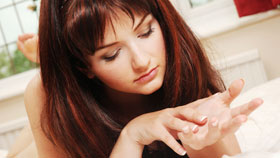 Eczema is a chronic allergic skin disorder that runs in families, resulting in red patches of skin that become extremely dry, itchy and irritated. Learn more about eczema from our experts.