Eczema is a very common skin condition that affects 10% to 20% percent of children and 1% to 3% percent of adults. About 60% of children with eczema will get it before age 1, and at least 80% will develop it before age 5. Most people will outgrow eczema during childhood. Still, eczema can flare up during puberty or adulthood. Eczema causes the skin to become inflamed and itchy. Consult a dermatologist for more information.
Continue Learning about Eczema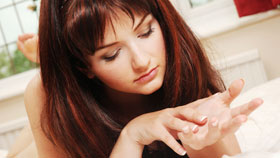 Eczema is a chronic allergic skin disorder that runs in families, resulting in red patches of skin that become extremely dry, itchy and irritated. Learn more about eczema from our experts.