If you have symptoms of discoid eczema, get checked by a dermatologist. A dermatologist may recommend daily treatment strategies, such as taking long, lukewarm baths and applying moisturizer while your skin is damp. Your dermatologist also may prescribe ointments or other skin treatments. In some cases, oral medication may be needed to help manage symptoms of discoid eczema. Take all of the medicine your doctor prescribes exactly as instructed.

Continue Learning about Eczema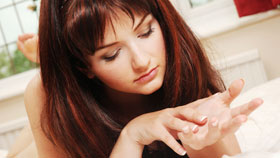 Eczema is a chronic allergic skin disorder that runs in families, resulting in red patches of skin that become extremely dry, itchy and irritated. Learn more about eczema from our experts.