Infantile eczema, or atopic dermatitis that occurs in infants, can be treated with topical medications. Your baby's doctor may prescribe mild steroid creams to eliminate the inflammation caused by eczema. If your baby's condition is severe, the doctor may prescribe antibacterial medication to fight infection. This can be a cream or oral antibiotic. Various steroid creams are sold over the counter, but you should not treat your baby without first talking to your doctor. A proper daily skin care routine, using mild cleansers and moisturizers, can also help with the management of eczema symptoms. Consult a dermatologist for more information.
Continue Learning about Eczema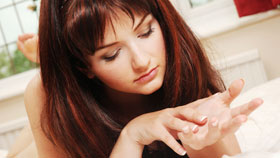 Eczema is a chronic allergic skin disorder that runs in families, resulting in red patches of skin that become extremely dry, itchy and irritated. Learn more about eczema from our experts.