Diagnosing infantile eczema can be difficult because symptoms vary and there is no single test for it. A doctor will ask about medical and family history of hay fever and allergies. He or she will also ask about things that may cause your child's irritation, including stress. A physical exam will reveal how severe and widespread the flare-up has become. Tests may be done to rule out other conditions as a cause for the irritation. Consult a dermatologist for more information.
Continue Learning about Eczema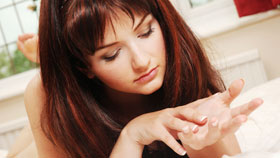 Eczema is a chronic allergic skin disorder that runs in families, resulting in red patches of skin that become extremely dry, itchy and irritated. Learn more about eczema from our experts.