You can help your dermatologist assess your eczema by providing him or her with your medical history. Accurately describe the circumstances under which you first noticed you had a rash and when it started. This can help your dermatologist determine the cause. Keeping a journal logging your eczema flare-ups and any factors that seem to trigger them can also help.


Before you see a doctor about your eczema there are a few steps you can take to make both your lives easier. Start by keeping a detailed written account of your symptoms. When did they appear and how long did they last? It's also important to provide your doctor with accurate medical records. What types of medications, vitamins or other supplements are you taking? How often do you take them and how much do you take? The answers to all of these questions may help your doctor in assessing the situation. Also, prepare a list of questions you have ahead of time and don't be embarrassed to ask anything. The more you know the better equipped you'll be to manage your eczema.
Continue Learning about Eczema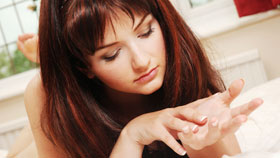 Eczema is a chronic allergic skin disorder that runs in families, resulting in red patches of skin that become extremely dry, itchy and irritated. Learn more about eczema from our experts.