What makes eczema so difficult for many children is how it affects the way they learn to relate to their own bodies, first physically, then psychologically. The itching cries out for scratching, and the scratching causes skin distress. That's why I refer to it as "the itch that rashes."

The preoccupation affects the way children deal with the world around them and how the world deals with them. Adults may notice the incessant scratching and probably admonish the child -- futilely -- to keep their hands off the rash. Over time, these children become objects of pity to grown-ups, and their parents become objects of scorn because they "don't do anything about it."

Other children can be fairly brutal about it. They notice first the scratching and then the accompanying disfigurement, and they may tease them about both. As eczema patients get older, the vanity component looms large in the way they see themselves. This vanity has repercussions well into adulthood. Children with bad eczema sometimes find themselves relegated to the back row of family photographic portraits standing on chairs with the grownups when, by virtue of their age and height, they should be in the front. All these factors mean that eczema is not a superficial problem, but one that penetrates to the core of who they are.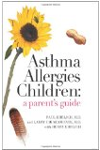 More About this Book
Asthma Allergies Children: A Parent's Guide
Asthma and allergies are at epidemic proportions. It doesn't have to be that way. Two experienced pediatric allergists tell everything a conscientious parent needs to know about these conditions,...
Continue Learning about Eczema