The thickened scaly skin we associate with eczema is really the result of itching. Her own nails can infect her skin with superficial staph bacteria when she scratches, causing weeping open or crusted sores. This is why "eczema" often responds to antibiotics, although many doctors treat it with other means. There is a medical aphorism, "Eczema is an itch in search of a rash." The allergist's job would be to treat the itch.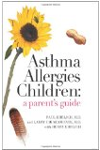 More About this Book
Asthma Allergies Children: A Parent's Guide
Asthma and allergies are at epidemic proportions. It doesn't have to be that way. Two experienced pediatric allergists tell everything a conscientious parent needs to know about these conditions,...
Continue Learning about Eczema