A doctor diagnoses discoid eczema by examining the skin and asking you questions. A doctor may suspect discoid eczema if a person has round or oval sores on the skin. The sores are usually red or brown. They may itch or burn, ooze fluid, and become scaly. The sores start out small, but can grow and spread. A discoid eczema sore or rash can grow to 4 inches across. The rash often appears on the legs, but may occur elsewhere on the body.

To confirm a diagnosis of discoid eczema, a doctor may ask questions such as "did you cut, burn, or scrape your skin recently?" Discoid eczema often occurs after a skin injury. A doctor may also ask if you are taking any medications.

Continue Learning about Eczema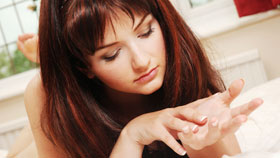 Eczema is a chronic allergic skin disorder that runs in families, resulting in red patches of skin that become extremely dry, itchy and irritated. Learn more about eczema from our experts.