Eczema is a skin condition related to an immune response. Often people can get eczema from allergies to the environment, but food allergies are also common. Learning what foods may exacerbate eczema may take time and a process of elimination. Some common foods that pose allergies include dairy, peanuts and tree nuts. Learning what foods you may be allergic to and avoiding these in your diet may help reduce your eczema symptoms.
Continue Learning about Eczema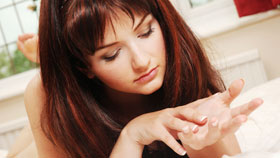 Eczema is a chronic allergic skin disorder that runs in families, resulting in red patches of skin that become extremely dry, itchy and irritated. Learn more about eczema from our experts.