Eczema (atopic dermatitis) is a common disease, especially in developed countries. Multiple reports have been published noting the prevalence of eczema in children, with incidence varying from 4% to about 20%. When compared to other known diseases, this would be considered a common finding in children.
Eczema, also known as atopic dermatitis, is somewhat common, with approximately 10 to 20 percent of the world's population developing it. Among people who develop eczema,a skin condition the runs in families, 90 percent develop the condition before age five.

Eczema is one of the most common skin diseases in the world. Eczema affects up to 30 percent of U.S. children. It rarely develops after the age of 30 but when it does, it is usually the result of harsh environmental conditions. Worldwide, about up to 3% of adults and 20% of children have atopic dermatitis (commonly called eczema) at any given time.

.
Continue Learning about Eczema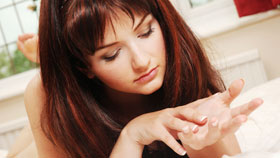 Eczema is a chronic allergic skin disorder that runs in families, resulting in red patches of skin that become extremely dry, itchy and irritated. Learn more about eczema from our experts.