Talk to a dermatologist about the best way to cleanse your skin if you have eczema. He or she may recommend you use a fragrance-free, unscented cleanser formulated for sensitive skin. Your doctor may suggest soaking in a lukewarm bath for 15 minutes to allow your skin to absorb the water. You can air dry your skin after bathing or use a clean, soft towel and pat your skin dry. Your dermatologist may also recommend slathering your skin with a fragrance-free moisturizer after bathing to help prevent irritation and skin cracks.

Continue Learning about Eczema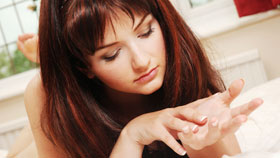 Eczema is a chronic allergic skin disorder that runs in families, resulting in red patches of skin that become extremely dry, itchy and irritated. Learn more about eczema from our experts.