Dr. Anne-Marie Irani of the Medical College of Virginia believes that wet PJs can be a good thing for children whose eczema is so bad that they can't stop scratching long enough to get a good night's sleep. You may have tried putting cotton socks on his hands, but they have come off and the scratching persists.

The itching of eczema is in part a function of severe dehydration of the skin as the immune system works overtime to combat allergy and infection. The fluids in the skin have been otherwise engaged, depriving them of their normal functionality of keeping the tissue moist.

In this case, Dr. Irani's answer is a variation on one of the world's ancient technologies -- mummification. The object is to get the skin rehydrated long enough to stop the itching and provide relief.

Start with a warm bath to hydrate the skin. Then coat the afflicted areas with a layer of Vaseline to trap the moisture already in the skin. Wrap the area with cotton gauze.

Now, wet a pair of PJs, wring them out with your hands -- you want them wet enough to compensate for the dehydrating effects of any perspiration overnight but not so wet as to be uncomfortable or chilling -- and dress the child in them.

Finally, put on another pair of dry PJs. According to Dr. Irani, a single night like this can restore the child's skin dramatically.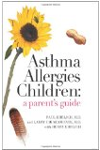 More About this Book
Asthma Allergies Children: A Parent's Guide
Asthma and allergies are at epidemic proportions. It doesn't have to be that way. Two experienced pediatric allergists tell everything a conscientious parent needs to know about these conditions,...
Continue Learning about Eczema