There are many ways to control eczema. The most important thing you can do is avoid triggers of your eczema such as things you are allergic to, as well as any dyes or perfumes in the lotions or perfumes that you use. It is also very important to keep your skin moisturized, which prevents itching and dryness that can cause you to develop eczema breakouts as well. People with eczema should use a specific eczema type cream one to two times a day. If these things do not control your eczema, you may need to talk to your doctor about a steroid cream or other prescription eczema treatments.
Eczema can be controlled, but not cured, with medication and lifestyle changes. These may include controlling stress levels and minimizing conditions known to exacerbate the condition, such as irritating fabrics, known allergens, hot showers, extended periods of skin dampness, sweat, or extreme temperatures.
Continue Learning about Eczema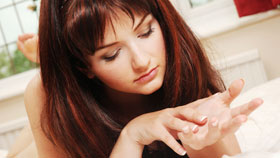 Eczema is a chronic allergic skin disorder that runs in families, resulting in red patches of skin that become extremely dry, itchy and irritated. Learn more about eczema from our experts.